So, we left Seaside at 10am, and were making great time! We stopped in Newnan for gas and a potty break right before 4pm. When we got a half mile back on the interstate, it stopped. And when I say stopped, I mean three-and-a-half-hours-stopped.
There was a terrible wreck about a mile up ahead, and we sat around with a bunch of car neighbors. There was nothing else to do, so we....
...blew bubbles...
...watched some football games and kids playing...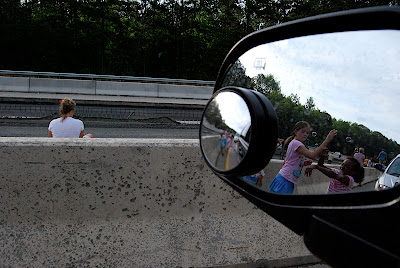 ...watched the south side of the interstate get to move...
...and Morgan and I had a "fiesta".
Oh, and Chris went to use the "facilities" and came back with a huge snapping turtle!
Chris was such a trooper and drove to and from Florida... and he's behind the camera a lot instead of in front of it. He's such a good dad.
Basically anything that kept little Bella happy. She is crawling now, so she's just wanting to move. So we passed her around in the car, listend to AM 750 for updates, walked around in the heat.... then at 7:18, we finally moved!
Wow, who knew that was going to happen! Praise the Lord we weren't in that wreck, but wow... that detour made for some memories!!
(sigh)