Bella turned 9 months yesterday. We can't believe it!
It's fun to see her little personality come out more - and also a little sad to see her grow up! She's becomes a tad more independent everyday- although she still loves to cuddle and loves her Mama and Da-Da (Da-Da is her fav word, too!!)
Bella has 4 teeth coming in right now - two are sticking out just past the gums and 2 more are right behind it. So although it's hard sometimes going to sleep, I secretly love the clingi
ness
and hugs she needs.


Bella is now crawling all over the house! She loves chasing Astro because he's not very fast. She thinks it is so funny.


She's pulling up on us and standing up quickly, but really just on us, not on objects (crib).


She's started some finger foods - loves sweet peas, carrots, sweet potatoes and mango. She's not so much a fan of banana. I am not sure if it's the taste or the mushiness of picking them up!


She waves "hey"


She gives GREAT kisses! To us and to a baby doll. I think she'd give them to the dogs if she could catch them.


She's a water baby. Mama loves that! Our neighborhood pool just was renovated and we are pumped! (Another blog coming soon)
Here are some pictures from yesterday, her true 9 month day:

Beautiful.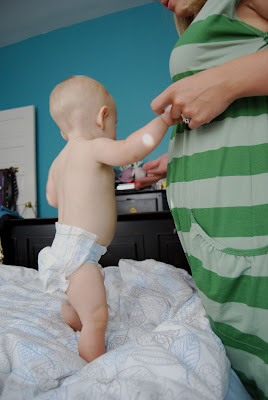 I am so in love with this little person. I can't imagine life without Bella Reese. Her laughs and giggles light up my world; her babble and cry melts my heart. I absolutely love being a mom and I'm grateful for everyday I have on this earth with her.